Ensenada, B. C. - Para promover el descubrimiento y parte de la historia de Ensenada, ayer se desembaló la estatua del navegante Juan Rodríguez Cabrillo, la cual será instalada en la Ventana al Mar, luego de ser restaurada.
Andrés Nicolás Saad, uno de los impulsores del proyecto, explicó que la estatua estuvo por más de 40 años en un parque de California, Estados Unidos, y tras varias gestiones se logró traerla en comodato indefinido para el municipio.
Cumbre mundial de oceanógrafos
Ensenada, B.C. - Con el objetivo de generar información que permita diseñar políticas públicas para la conservación de los recursos costeros marinos, 80 expertos en el área oceanográfica de 77 países están reunidos en Ensenada.
Estos especialistas participan en la XXII Reunión del Comité Internacional de Intercambio de Datos e Información Oceanográfica (IODE) de la Unesco, evento que ayer fue inaugurado por el rector de la Universidad Autónoma de Baja California (UABC), Felipe Cuamea Velázquez.
News Flash
Ensenada 6-10 & 6-11-14 - Yellows on fire at Todos Santos
Read full article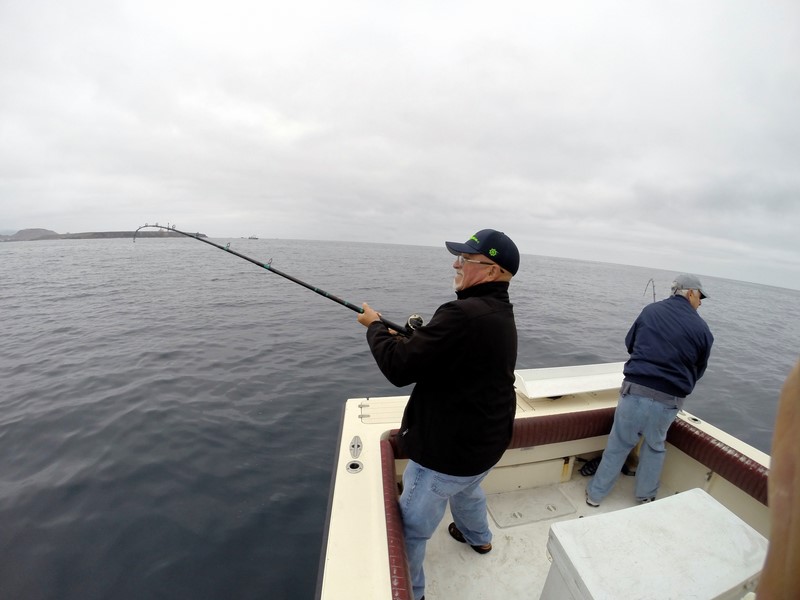 Yellowtail fishing continues to be excellent here in Ensenada with the north end of Todos Santos Island the latest area where the fish are being picked off. Two charters this week on the It's 4 Reels with a total of 5 anglers yielded 19 yellowtail with many more lost, several calico bass to 7 lbs. which were all released and on Tuesday's charter some nice log barracuda came over the rail as well.
Ensenada 5-20 to 5-22-14 - Yellows at the island
Read full article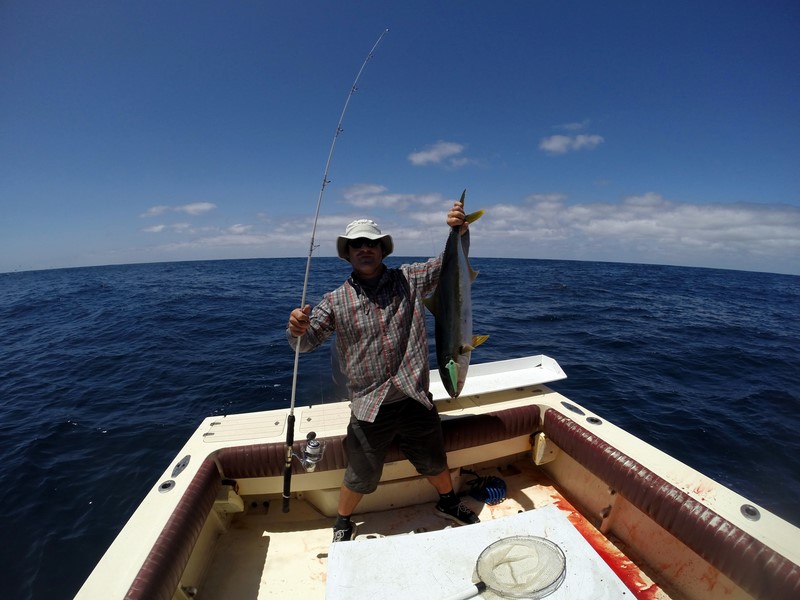 Excellent yellowtail fishing at Todos Santos Island this week with several boats scoring from 8-20 fish. The yellows were everywhere as we had them boiling all around the boat several times. The fish were feeding on anchovies and getting them to go required patience. Tim Oakes and Greg Hertle drove down from Sacramento and chartered the It's 4 Reels for 3 days and on Tuesday landed 2 nice yellows.
Yellowtail hitting strong
Read full article
Ensenada is showing signs of a promising fishing season with a consistant Yellowtail bite since March. Water temps are up form the past few years and all we need now is the Albacore to show up in June/July. Captain Charro with his three charters "No Limitz One, No Limitz II and No Limitz Supreme" has probably been on the water more than anyone this season and has the fish counts to show for it.
Ensenada 5-2-14 - Barracuda and a Great White Shark
Read full article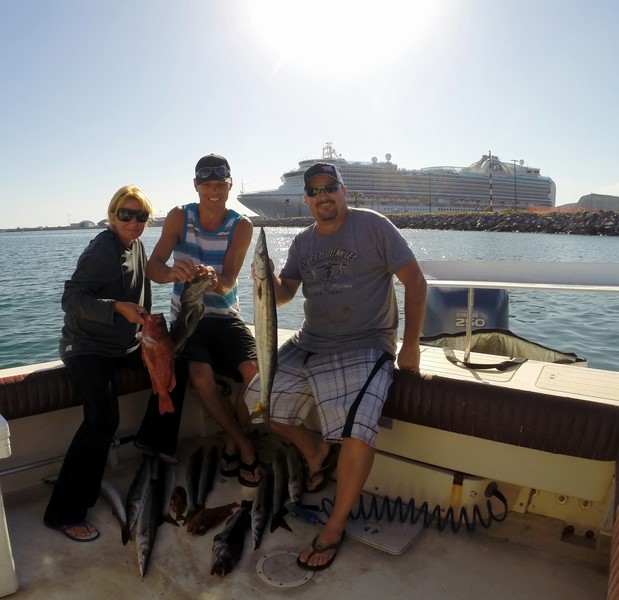 General report for the Ensenada area has yellowtail and barracuda are spread out from the north end of the island to San Miguel Reef.
One Big Bass!!
Read full article
Brett Barry spears a 76.4 lb. white sea bass on charter Selena out of Ensenada, Saturday May 3rd. In addition they also put 4 yellowtail and a dozen bottom fish on board.
WON was at the dock upon return and will be posting Bret's club record WSB.
Ensenada 3-20 to 4-12-14 - Yellows still biting the surface iron
Read full article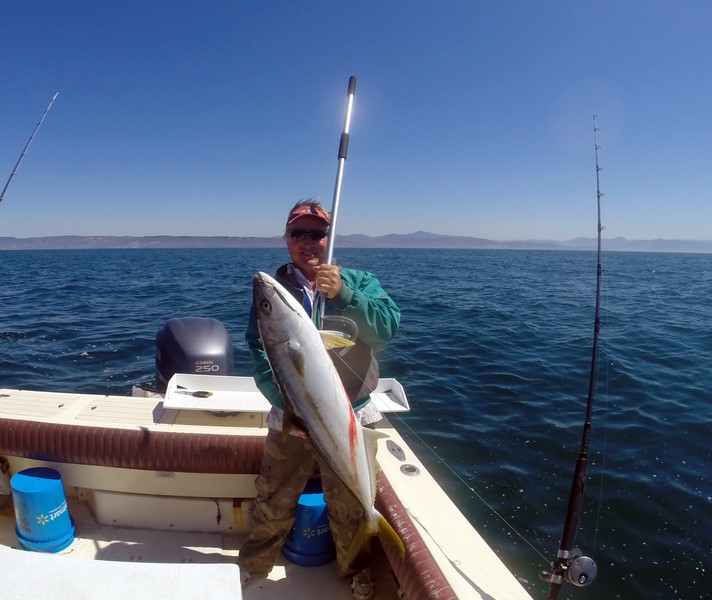 Although live bait is still not available for sale the yellowtail fishing continues to be pretty decent for the Ensenada area. Fish are being found most days in a wide area from off Salsipuedes to San Miguel Reef and from the north end of Todos Santos all the way back to Sauzal. Lately the bite has been better in the afternoon.
Ensenada 3-9 and 3-11-14-Good Yellowtail Fishing in the Bay
Read full article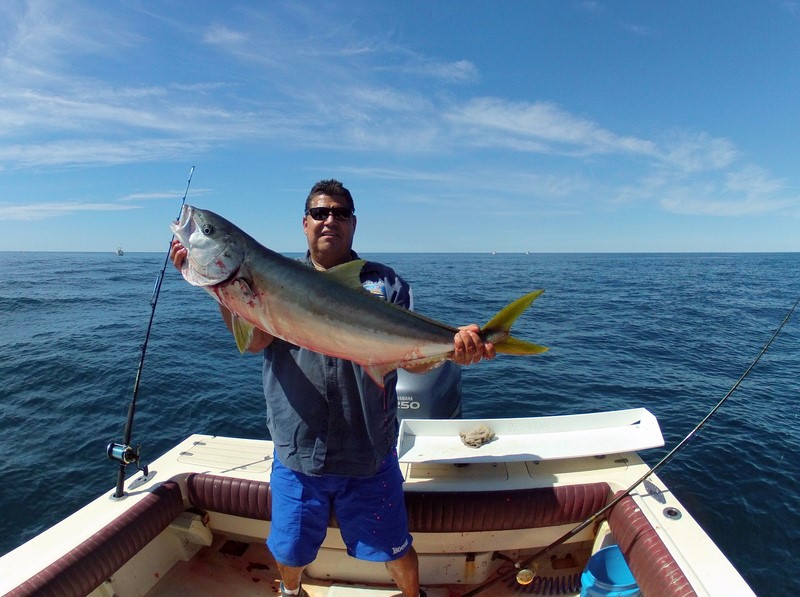 Yellowtail fishing went off Sunday afternoon for the crew of the It's 4 Reels in an area 2-3 miles north of San Miguel Reef. Tim McNulty and Joe Feeney were out on this trip. We ended our day with 9 yellows from 18 to 32 lbs. all caught on the iron and 8 of the 9 were caught after 2PM. Blue/white 6x jrs. fished through the water column caught the first few fish and then a light aluminum Candy Bar jig became the hot jig of the day accounting for the next 5 fish.
Ensenada 2-26-14 - Yellowtail bite takes off
Read full article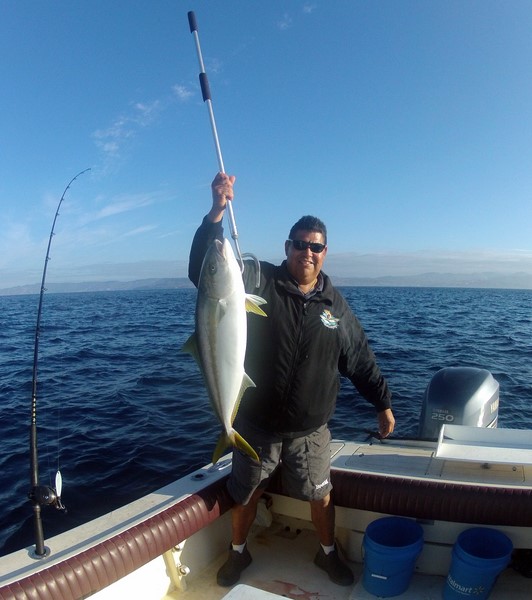 Ensenada yellowtail fishing took off this week as the fish bit from Monday on into Thursday with fish from 12 to 30 lbs. popping all over Bahia Todos Santos. Took Wednesday off from Tequilas Sports Bar to try and get a few for our restaurant. Along for the hunt was Angel Garcia and after stopping on a couple of meter marks and picking up some nice sand bass we moved to the middle of the bay and that is where the fun began. There were fish breaking all over the bay but they were moving fast and would only stay up for a minute or two so we stopped on the first good meter mark we saw and it was an instant hookup on the iron for me. It was short lived as it came unbuttoned and on the next drop the same thing happened.
Ensenada 2-14 & 2-15-14-Yellows at Todos Santos Island
Read full article
2-14-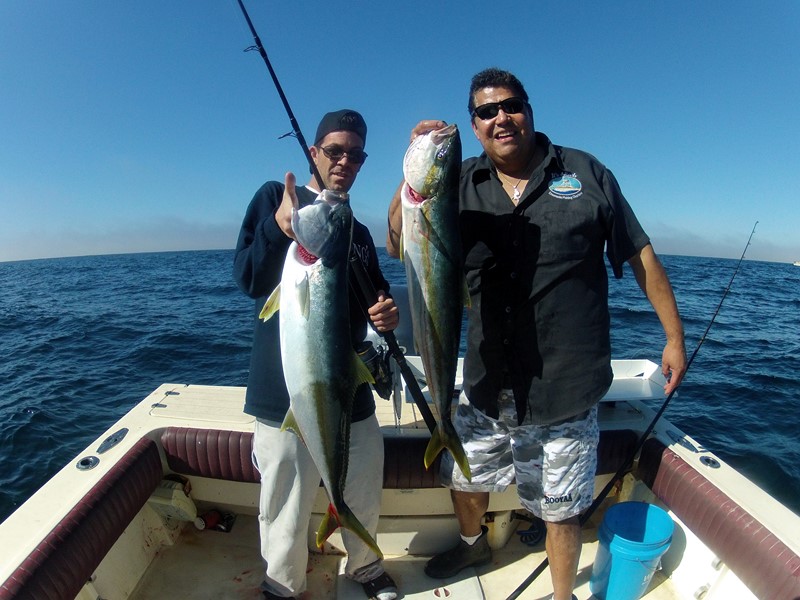 A Valentine's Day fishing trip for Mark and Rita saw us head to Todos Santos Island in search of some home guard yellowtail. A friend of mine reported catching 10 big yellows the day before in very nice conditions. We had high hopes that we would get into them also. And we did. We went 2-4 on the yellows using blue/chrome and scrambled egg Fire Iron 5 lures. We also caught a nice calico bass, 2 reds, 3 lingcod and an assortment of rock fish. Conditions were not that great with wind and fog appearing and disappearing a few times during the day. Rita also was able to catch her first salt water fish as well. Did not here of any other boats catching yellows this day.


Ensenada 2-12-14 - Great lingcod fishing
Read full article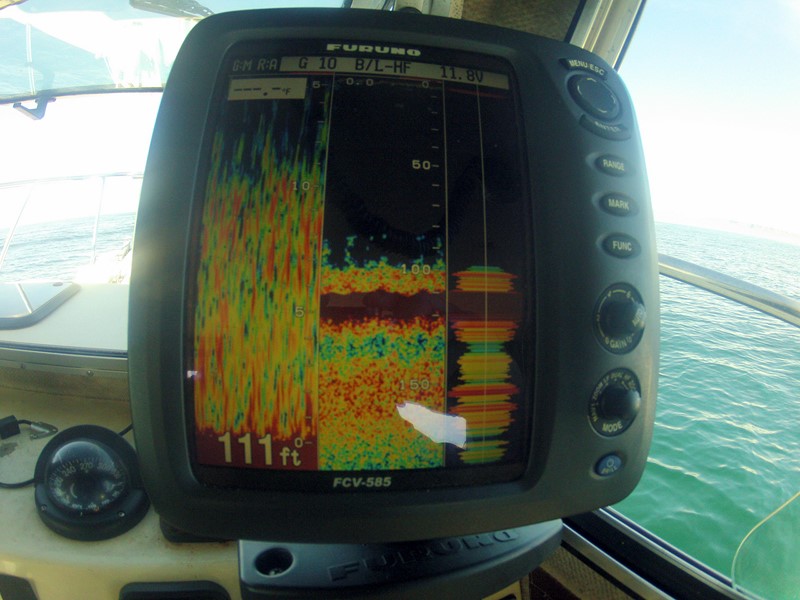 Another great day of fishing inside Bahia Todos Santos. Final catch was 15+ lingcod, and an assortment of reds, whitefish and misc. other rockfish. Lings ranged in size from 4-14 lbs. with most between 6-8 lbs. Lost a couple of toads at the boat. Those lings can really flare there gills and shake there heads violently when they get close to the boat.
Ensenada 1-28-14-First 2014 yellows and lingcod
Read full article
After 4 months in the shop the "It's 4 Reels" is back on the water and is now open for business. We had a new top end put in (pistons, rings, seals etc.), new bottom paint, and new gauges installed. My friend Cisco and I took her out on Wednesday 1-28-14 and the engine is running like new again. Now for the fishing-we hit the San Miguel Reef area (aka the bajo) and started out at 10AM. We stopped on a high spot just before arriving at the bajo and Cisco caught a nice chucklehead on a green and white fire iron. We drifted this spot for a few rockfish and whitefish. It felt great to back on the water!
First Pass
Read full article
Ensenada , B.C. - The Autonomous University of Baja California ( UABC) , held the 43rd edition of the bike ride " UABiCi " , in which over 300 people of all ages participated .
Nelly Calderon de la Barca and Arcelia Paz coordinating the event, said their expectations for the full year on the bike ride were to somehow influence the culture of the various means of transport in society.
Baja 1000 Results
Read full article
2012 TECATE SCORE BAJA 1000
45th ANNIVERSARY ENSENADA TO LA PAZ PENINSULA RUN
FOUR WHEEL VEHICLE OFFICIAL CLASS RESULTS
SCORE TROPHY TRUCK:
CLASS OVR VEH DRIVER OF RECORD TIME MPH
They plan 60 seats in the " oscurito "
Read full article
Ensenada , B. C. - Although most of the twentieth City official , Chief Fernando Rodriguez, said he did not have filed Basification in Ensenada union bureaucrats circulated a list of 28 employees who seek a place in the Municipal Government , and the paper notes that there are two at the discretion and 30 more that would be proposed by Mayor Enrique Pelayo Torres.
Chief Rodriguez was interviewed by The Watcher and said that until yesterday at noon or presented have not made basificaciones requests for staff, but said the financial and administrative situation being experienced by the municipal government would not grant a single base .
Considered that the rumors about the 60 seats are false , because to date , when almost to end his three years the mayor, has not started a single procedure .
Forth in the City Gallery "Catrinas and Catrines"
Read full article
Ensenada , B.C. - Sixteen dandies and catrinas sculptures are exhibited in the Gallery of the City, as a result of the call to students of the Faculty of Engineering, Architecture and Design , who presented their work to a jury was formed by Prof.. Lucy Moreno Corral ( artist ) , Prof.. Architect Claudia Rivera Torres ( FIAD coordinator of UABC ) and MSc. Jaime Campos Diaz (sculptor ) .
The exhibition " Tilica and skinny , walking living death " , will remain available until December 13 , where they can see and dandies catrinas representing artistic figures such as Pedro Infante , Frida Kahlo , María Félix , John Lennon , Cantinflas , Amy Winehouse , mostly with a Mexican flair .
Las Olas
Read full article
Ensenada, B.C. - A sculpture allegedly called "Las Olas" was installed yesterday afternoon on Coastal Boulevard extension by the Ministry of Infrastructure and Urban Development of the State. Due to the weight of the metal work, it required the use of a crane and the work of welders who worked for several hours in the area.
CBTIS celebrates its 40th anniversary
Read full article
Ensenada. B.C. - Bachelor of Technology Center Industrial and Service 41 is one of the best educational institutions in the country, has so advised the Mayor Enrique Pelayo Torres during their participation in the ceremony of 40th anniversary of CBTIS 41 .
The mayor noted that in 1973 the city of Ensenada was very different from how it is now , but the youth of this city have always been restless and eager to succeed , so that , with the start of activities CECYT 201, today CBTIS 41 was in response to the concern of tens of students who wanted to continue their studies.
Ensenada 9-10-13-Big yellowfin, dorado and yellows
Read full article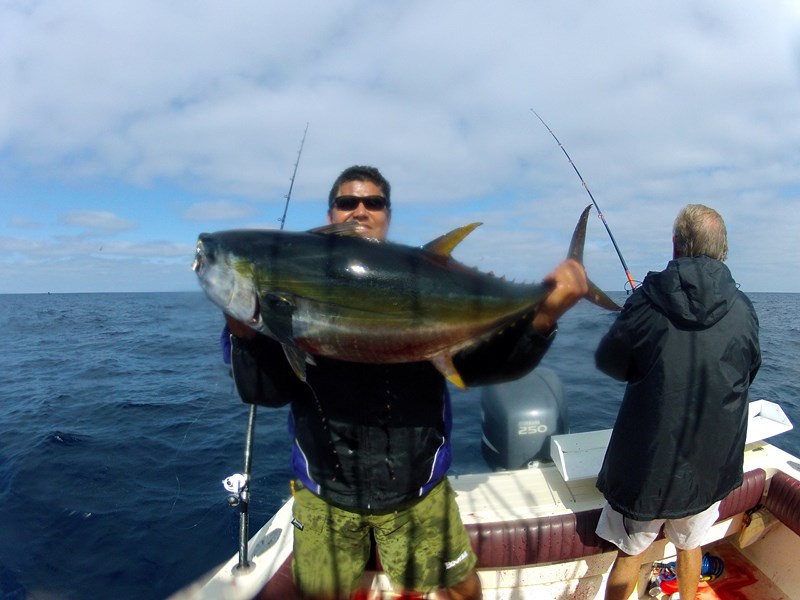 The plan was to first head out to the 450 while looking for paddies along the way. Our charter consisted of Ed and Greg and my deckhand was second captain Cesar. We put the trollers in at 31.32/117.02 and we got bit before I could put the 2nd troller out. A nice 30+lb. yellowfin hit the purple cedar plug fished long. Ensenada Bait had nice anchovies that we purchased and we chummed and hooked 2 bigger models on the flyline. Greg was fishing with a Revo Toro and I was fishing Accurate 270 using 25 lb. test and we were both in for a great fight.
Ensenada-8-16-13 to 9-9-13 2013 Ensenada Report
Read full article
Although I haven't reported in a while it hasn't been for lack fishing or lack of fish. Ensenada is alive and well. This is a two part report with the 9-10-13 report coming right after this one. August 17th found us on a friends boat at the marina and just relaxing. While sipping on "Lethal Weapon" martini's we hooked and landed a bonefish on cut squid:
4 Patas: A look into Mexican kitties and pooches in Ensenada.
Read full article
When people visit Mexico, there's usually an overall opinion of our stray animals walking around our streets. There's always an expression of awe in the way people find our dogs and cats wandering and hanging out at taco stands or other easy food access places.
Usually that's the first and last impression from your visit to Mexico. But what you don't know about Ensenada, is that we're actually getting ahead in what this topic concerns. In 2008, there was a nonprofit association created called 4 Patas (this means 4 Paws) which started as a sterilization, vaccine and adoption campaign but actually dedicate their work to improve the quality of life of cats and dogs in Ensenada's community.